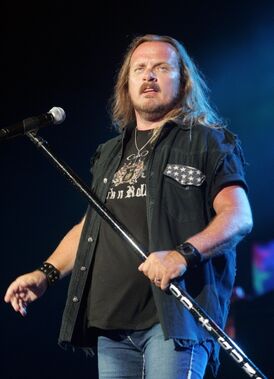 Johnny Van Zant is the brother of Ronnie Van Zant (the original Lynyrd Skynyrd singer) & Donnie Van Zant (guitarist & singer of The .38 Special Band). As we probably all know, on 10/20/1977, the Skynyrd airplane crashed because it ran out'ta fuel (WHILE IN AIR!), killing Steve Gaines, Cassie Gaines, Dean Kilpatrick, and yes, even Ronnie Van Zant. Everyone else in the band survived, but were injured, some very seriously. BUT, 10 years later, the survivors would form a brand new Lynyrd Skynyrd band. The only one who couldn't play with them was Allen Collins, who was recovering from some kind of an incedent, letting Randall Hall (and soon-to-be original brief-time drummer, Rickey Medlocke) to take his place. Steve Gaines was a replacement for Ed King, who left the band 2 years before the plane incedent, so when the new band was forming, Ed re-reclaimed his place as guitarist. Cassie Gaines was replaced by Dale Krantz (wife of original lead guitarist, Gary Rossington). Jojo Billingsley & Leslie Hawkins didn't show-up, so Carol Bristow & Carol Chase took their places. And FINALLY, who was the man who would stand where Ronnie Van Zant once stood? WHO ELSE? JOHNNY!!!!!!!
The Lynyrd Skynyrd Tribute Band has been making music since 10/20/1987, 10 years after the original band's tradgety, and is STILL performing today as Southern Rock & Country musicians. Their 1st album was called "1991" (1991). Their last album (so far) was called "God & Guns" (2009).
Ad blocker interference detected!
Wikia is a free-to-use site that makes money from advertising. We have a modified experience for viewers using ad blockers

Wikia is not accessible if you've made further modifications. Remove the custom ad blocker rule(s) and the page will load as expected.